Frequently Asked Questions on Size 25 Autotech Smart-Encoders™
1. Why this Website?
Autotech Controls has been one of the largest suppliers of Resolver based position transducers since 1975 and as such services a very large number of manufacturing plants that use its resolvers. A significant number of these plants also use traditional industry standard, size 25 encoders. One of the biggest complaints we hear from the maintenance personnel and control engineers of these plants, is that every one of the principal suppliers of these encoders have their own 15+ letter string part numbers such as H25D-SS-1000-ABZC-28V/V-M18 from BEI or HR62510000311 from Dynapar or 847H-DN2C-RD01000 from Rockwell, and it is near impossible to decipher the specifications of these encoders from these part numbers, unless you deal with them day in and day out.
One of the principal reasons for creation of this website is to provide a Reference Library for over 200,000 different Size 25 encoder part numbers. Just type the manufacturer's part number, it will tell you what the specifications of this part number are, e.g. 2.5" body diameter, 3/8" shaft with a seal, flange or servo mount, counts per rev., types of outputs, quadrature, complementary, type of connector and whether it is end mount or side mount, etc. The website itself has enough smarts in it to give you a selection of full part numbers once you enter a few letters of the part number string.
The website of course gives you an Autotech drop-in-replacement that can be ordered on-line to ship out the same day. This is possible because one Smart-Encoder™ part number typically replaces more than 20,000 part numbers from BEI, Dynapar and Rockwell.
We will continue to expand this website to include other manufacturers, so that one Smart-Encoder™ could replace 100,000 part numbers.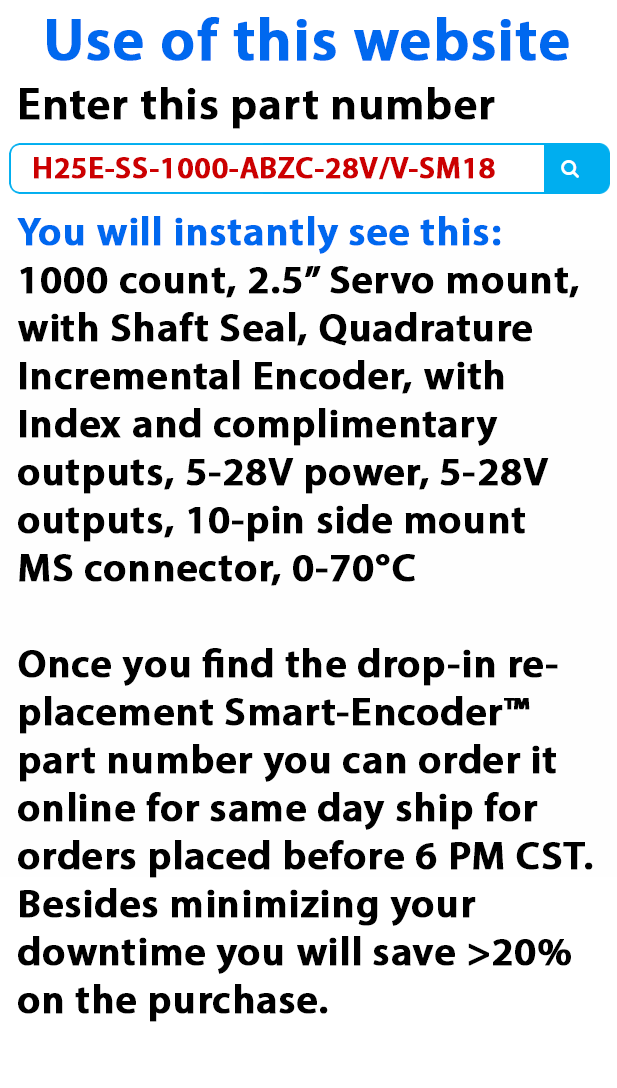 2. What is it's use?
An encoder with its rotating parts, particularly optical, has a limited life, so you are going to lose an encoder once in a while or frequently if you have a large number of encoders installed in your plant. And if you have machines from different OEMs with different encoders, you are most likely going to have tens of different part numbers in use in your plant. Fortunately, Size 25 has become the industry standard, so mechanical specifications are mostly fixed. It is the electrical specifications that end up creating these thousands of part numbers. So, when your encoder begins to squeal or it simply dies, you are in a conundrum, if not panic, to replace it so that you do not lose production time. And then the phone calls, texts and emails begin to find the encoder you need that has the 15+ digit part number written on its label. You got to find the right encoder in the plant crib, or a local distributor, or the manufacturer of the machine. Or you go directly to BEI and Dynapar and hope that the part number you need is available as an Express encoder and you can get it in about a week, if you have any luck!
This is where the website www.autotechsmartencoder.net, this Reference Library comes into picture. Type in the first few letters of the part number string, it will lead you to the exact part number you need, it will tell you its exact specifications and also give you the Autotech drop-in Smart-Encoder™ part number. You click Order and you will get it the next day. Same day shipping for orders placed until 6 PM CST.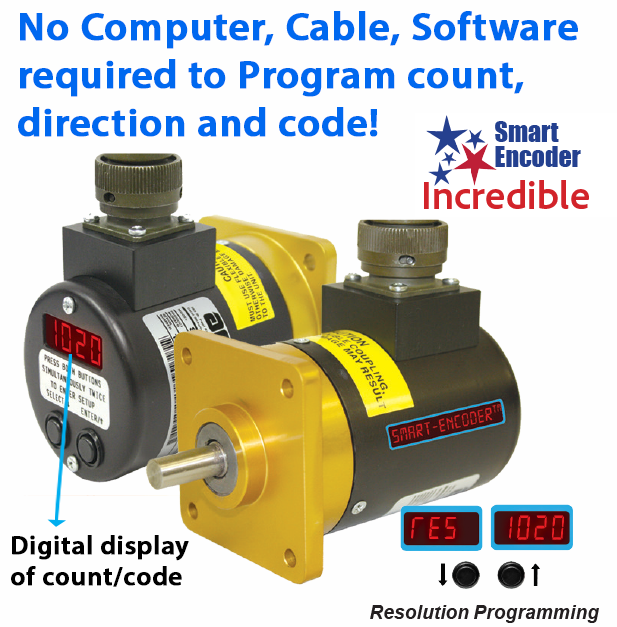 3. What is Smart-Encoder™ ?
Smart-Encoder™, in Autotech's tradition of exceptional innovation, is an encoder unlike anything else on the market. It has several patents pending. It has two buttons and a 4 digit bright LED display that allow it to program its counts per rev., its ascending CW or CCW direction, its code, BCD, Binary or Grey for Absolute models, without needing a laptop, software or programming cable. It can be programmed while mounted right on the machine. On top of all this, it shows shaft position as well as RPM. This allows the alignment of encoder shaft to motor shaft a very simple task as the encoder count is visible on its 4 digit display. When it is set to read its RPM, it even becomes a tachometer.
Because of its unique programming capability, one part number of Smart-Encoder™ typically replaces 20,000 part numbers of BEI, Dynapar and Rockwell. And to make it really exceptional, it is a drop-in replacement for these encoders.
The Smart-Encoder™ does not just incorporate a programming genius, it is the most rugged encoder in the market. It is rated NEMA 4/ IP 66, it can operate from -20 to 85°C. Shaft seal comes standard. It has an incredible rating of 80 lb. radial shaft load. It can run at 12000 rpm.
Smart-Encoder™ comes in with either an optical disc or a resolver as its position sensor. Whereas the AI-PI models are quite rugged in themselves, the AI-RI resolver model is particularly suited for extreme shock and vibration. It works flawlessly in harsh environments that have oil-mists, coolants and solvents. Resolver based units have better shaft loading and shock & vibration specifications.
Smart-Encoder™ can be purchased as an Incremental model or as an Absolute position model. Whereas Incremental models can be either Optical or Resolver based, the Absolute model is only resolver based. As an Incremental model its maximum counts per rev. can be programmed up to 1024 (which gives a resolution of one over 4096 due to quadrature output), the Absolute Smart-Encoder™ is a 12 bit that is 4096 count encoder, programmable in either BCD, Binary or Grey code.
Smart-Encoder™ outputs employ short circuit proof ET7272 or ET7273 chips that provide complementary line drive outputs as well.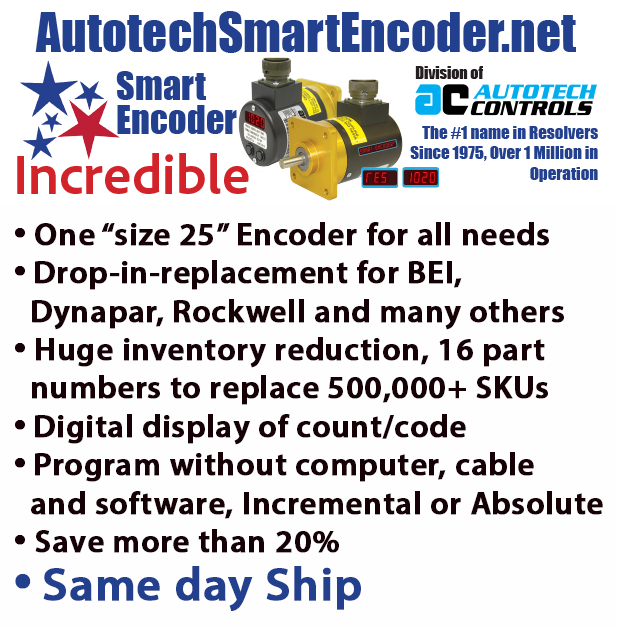 4. Why should I buy/specify Autotech Smart-Encoder™?
One programmable encoder is a drop-in replacement for 20,000 different part numbers of BEI, Dynapar and Rockwell Size 25 encoders.
Smart-Encoder™ reduces downtime to minutes if the plant is standardized on Autotech's Smart-Encoder™ because you can always find one spare or even from a different machine and program it for the one that became in-operational.
Absolute Smart-Encoder™ has another feature that allows encoder to machine alignment in seconds because it has an auto zero function. Just connect the encoder shaft to machine shaft at any angle, move the machine to home position and press reset button on the Smart-Encoder™ and home position will now read zero.
Using Autotech's phenomenal Reference Library, you can find the right encoder in minutes and order it on-line for same day shipping.
Save more than 20% in cost as compared to BEI and Dynapar, and 40% as compared to Rockwell.
It is programmable on the machine itself eliminating the need to stock dozens of different encoders.
Smart-Encoder™ can be programmed without any laptop, cable or software. Therefore you do not have to dismount the encoder, take it to a workshop where you will have the laptop, cable and software to program other recently introduced programmable encoders. With Smart-Encoder™, all you have to do is to use two buttons and an LED display on the encoder itself and program it to whatever your need is. It also has password protection to prevent unauthorized personnel to accidentaly change the program.
It displays shaft position and RPM that is a great diagnostic tool to determine if the encoder is functional or the cable connecting it to your control system or the controller itself has gone down.
It has the best Electrical, Mechanical and Environmental specification among all encoders in the industry. All Autotech Smart-Encoder™s are rated NEMA 4 (IP66), Class I DIV II.
It is Made in America.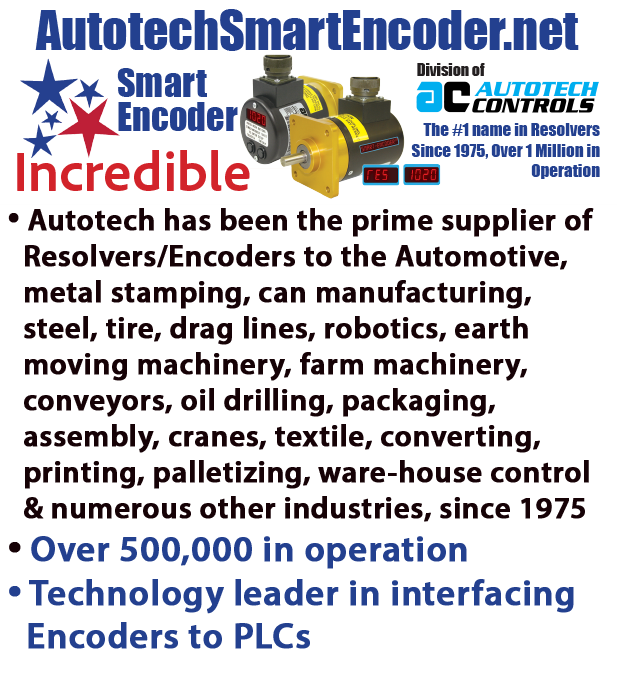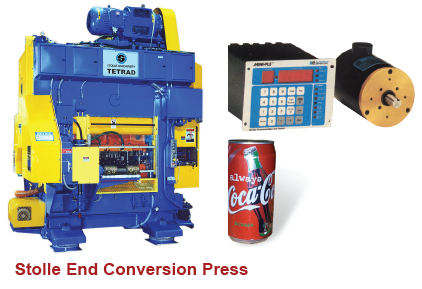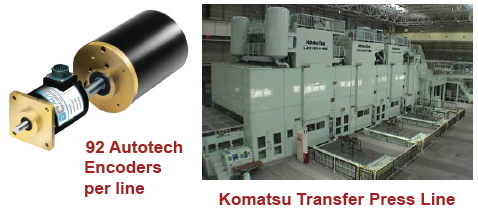 5. What is Autotech's background in Encoders?
Autotech has been a leader in the manufacturing position transducers/encoders since 1972. It pioneered the use of electronic position transducers in place to rotary cam switches that had limited accuracy, limited speed and were incredibly hard to adjust or program. Its resolver/encoders became the standard bearer in Automotive metal stamping presses.
Autotech introduced its First Encoder product back in 1975 that became a standard on USI Clearing presses. The encoder was used to determine the angular position and speed of the ram in a typical press cycle. It employed a metal disc and shock mounted optics to be able to withstand the shock and vibration of the press at its pinch point. Subsequently this MS650/MS670 product line became an automotive standard in the industry. The durability of this product is evident from the fact that there still are thousands of these presses in operation worldwide still using this product introduced almost 50 years ago.
Moving on from automotive metal stamping presses, Autotech, next addressed the need for a reliable encoder on the end conversion presses used in the 2pc aluminum can manufacturing industry. This turned out to be a bigger challenge as the vibration caused by these presses was so much that even the plant floors had to be reconstructed every couple of years. This was an absolute encoder application which was not possible through a metal disc, so Autotech first used a shock isolated traditional glass disc, then a plastic disc with maximum separation from optical readers and eventually a resolver based encoder. Autotech encoders provide an accuracy of better than 0.1 deg at 3000 rpm on can manufacturing lines through out the world.
Since 1972 Autotech has supplied encoders for rugged applications, in metal stamping, can manufacturing, steel, tire, plating lines, drag lines, earth moving machinery, farm machinery, conveyors, oil drilling, packaging, dam/gate control, assembly, medical, dairy, food processing, semiconductor manufacturing, cranes, military, tank-turrets, textile, converting, printing, palletizing, ware-house control and numerous other industries.
In 1985 General motors chose Autotech to be its exclusive supplier for 92 resolver based encoders, known as Digisolvers on each of its 100 Transfer press lines.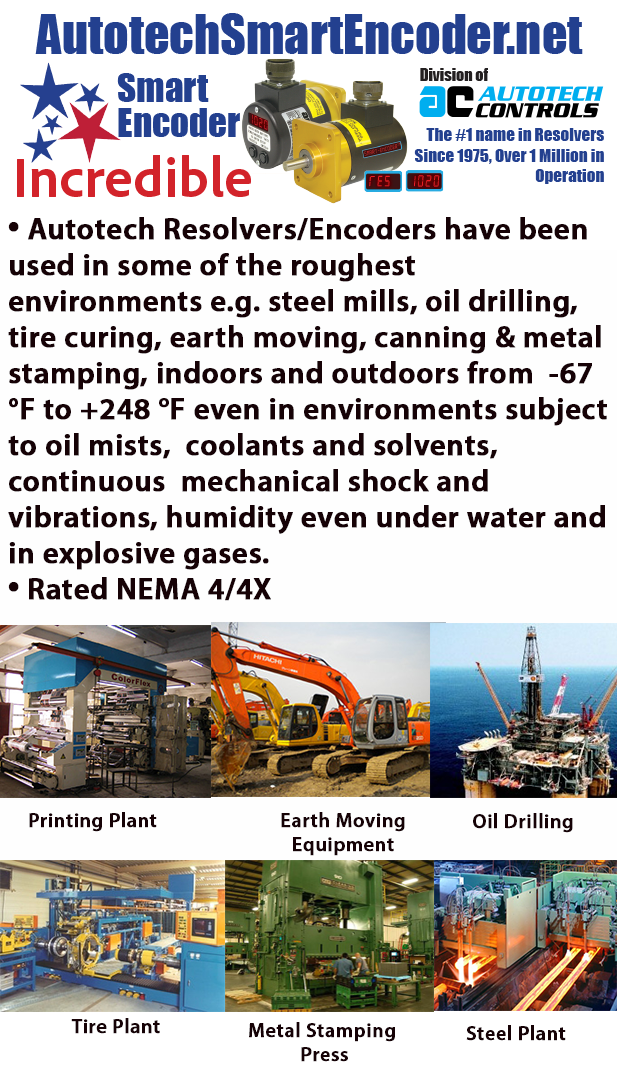 6. How reliable is Autotech Smart-Encoder™?
From Autotech's rich history in developing position transducers for some of the roughest environments, indoors and outdoors, from -67°F to 248°F from operation in environments full of oil mists, coolants, solvents, hosedowns, extreme shock & vibration, it should be obvious that Autotech has catered to some of the most demanding operational environments.
Autotech pioneered the use of a brushless resolver for position sensing very early on. Resolver is a highly accurate and highly dependable device for absolute position shaft encoding. Resolvers have a reliable track record of applications in aerospace, military, and industry, where they have been used for decades for position sensing. Some of the common applications are radar antenna position sensing, missile guidance systems, NC machine position feedback, automotive stamping presses, 2-piece-can manufacturing presses, earth moving machinery, indoor/outdoor cranes, tire curing presses, and packaging machines.
In early 1980's, Autotech developed a very compact resolver to digital converter that allowed the use of this most rugged position transducer as replacements for optical encoders. This ratiometric converter allowed a resolver to be 2500 ft. away from a resolver to digital decoder without missing a beat even when faced with short circuits and voltage spikes generated by highly inductive loads in a plant. This technology is exclusive to Autotech as it is Patented.
Autotech offers the Smart-Encoder™ with both optical disc and resolver position transducer elements. Whereas the resolver based Smart-Encoder™ is obviously the toughest encoder on this planet Autotech has taken great pains in designing it's optical disc based Smart-Encoder™ as would be obvious from its specifications such as 80 lb. axial and radial load, 50 g of schock and 11 g of vibration, NEMA 4 enclsoure and operation from -20°C to 85°C.